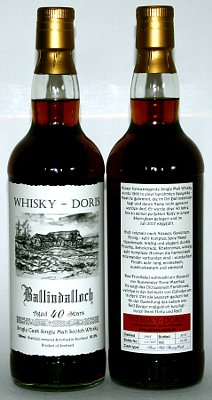 Ballindalloch 40 Jahre Whisky-Doris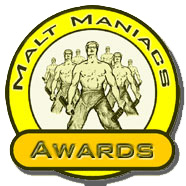 Dieser herausragende Single Malt Whisky wurde 1966 in einer berühmten Speyside - Destille gebrannt, die im Ort Ballindalloch liegt und deren Name nicht genannt werden darf. Er wurde über 40 Jahre bis zu seiner perfekten Reife in einem Sherryfass gelagert und im Juli 2007 abgefüllt. Das Frontlabel zeigt bei dieser Abfüllung ausnahmsweise nicht die Destille sondern das Old Leanach Farmhouse, welches in der Schlacht von Culloden am 16.April 1746 als Lazarett gedient hat und unweit der Destille zu besichtigen ist.
Dieser sehr alte Whisky ist in der Nase sofort präsent: intensive süße Gewürzaromen, Nüsse und Honig sind sofort vorhanden; nach einiger Zeit gesellen sich Karamell, Toffee, Röstaromen und ein Hauch Torf dazu - sehr feine Nase! Im Mund sind die Sherry-Aromen erstaunlich zurückhaltend, stattdessen dominieren kräftige Gewürz- und Röstaromen, die eher von der fein-herben Art sind. Dunkle Früchte, Zartbitterschokolade und ein leichter Holzeinfluss runden das Geschmacksbild ab, es entsteht ein schönes Wechselspiel aus trockenen und süßen Aromen. Das Finish ist ein langer Nachhall aller Aromen auf der eher trockenen Seite - typisch, sehr alt und lecker!
Achtung: dieser elegante Single Malt benötigt viel Zeit zu seiner vollen Geschmacksentfaltung - bitte geben Sie ihm diese Zeit, er hat über 40 Jahre darauf gewartet, getrunken zu werden! Diese Abfüllung ist bereits ausverkauft, es gibt noch den vom Künstler Horst Manthée (Hotte) handsignierten Druck des Old Leanach Farmhouse in DIN A4 für 15 Euro!
Herausragende 94,5 Punkte in Jim Murray´s Whisky Bible 2009!
Malt Maniacs Awards 2007: Silver Medal Winner!
Beurteilung von Serge Valentin (www.whiskyfun.com):
Ballindalloch 40 yo 1966/2007 (51.3%, Whisky-Doris)

Colour: dark amber. Nose: much more typical. Beautiful sherry, starting all on Corinth raisins, old rum, prunes and praline, with also a little coffee and chocolate. Goes on with the usual strawberry jam, ripe blackberries, a pleasant smokiness and notes of old rancio as well as a little mint, camphor and eucalyptus. Archetypical old sherried Speysider. Flawless, and so is the oak. Mouth: superb dryness at the attack, making for a spectacular contrast with the nose. Lots of chocolate, including bitter. Gets then quite herbal (is that rosemary?) and liquoricy, with the oak really playing the first part now. Toasted brioche. Pleasant saltiness. There are some fruits (prunes) but they're fully integrated with the oak. Finish: very long, more caramelly and toffeeish now, with also quite some cloves. I told you, totally flawless and superbly dry. 91 points.
Malt Maniac Krishna Nukala zählt unseren Ballindalloch zu den besten Whiskies, die er in 2007 verkostet hat und schreibt: Ballindalloch (40 yo, 1966/2007, 51.3% Whisky-Doris, First Fill Sherry, 165 Bottles)
This is Awards 2007 contribution from Whisky-Doris. According to Ho cheng it could be a traditional Linkwood, which the House of Ballindallochs usually bottle. I strongly felt that this could a Glenfarclas and Luc, our Mr. Glenfarclas agrees with me. Whatever it is, I strongly felt that this could have been one of the over all winners, but in the final run it narrowly missed a Gold Medal. Colour: Old oak. Nose - heavy Fino sherry, nice sandalwood and prunes. Exuberant! Plum cake. Actually I don't feel like drinking this stuff. Simply go on enjoy the smells emanating out of this. Palate - Rich concoction of dried fruits extract. Round and fantastic body. Superb sherried finish with lots of Asian spices. Only Angels are capable of crafting this kind of whisky!