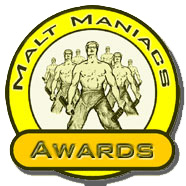 Dieser Bowmore ist der erste Islay Whisky, den wir in Trinkstärke mit 46% in unserer The Dram - Reihe bringen. In der Nase haben Sie sofort die ganze Palette typischer Küsten-Aromen, (Zitrus-) Früchte, Rauch, eine leichte Süße (Vanille), etwas Malz, Gewürze und Torf - sehr komplex, interessant und lecker! Der Antritt im Mund ist wunderbar kräftig und zunächst von den Küsten- und Frucht-Aromen geprägt, dann kommt eine Woge von Rauch und Torf, die von süßen Gewürzen begleitet wird.
Das Finish ist lang und auf der rauchig-torfigen Seite, die Süße weicht einer leicht herben Würzigkeit, es breitet sich ein glühendes Torffeuer aus, das eine schöne Wärme ausstrahlt. Dieser Bowmore ist ungewöhnlich intensiv und erinnert im Stil beinahe an einen Südküsten-Islay - ungewöhnlich und sehr lecker!
Sehr gute 86,5 Punkte in Jim Murrays Whisky Bible 2009!
Malt Maniacs Awards 2008: Bronze Medal Winner!
Beurteilung von Serge Valentin (www.whiskyfun.com):
Bowmore 13 yo 1994 (46%, Whisky-Doris The Dram, 119 bottles)

Colour: pale white wine. Nose: it's hard to imagine this comes from the same distillery as some earlier casks distilled in the 1980's. Maybe not much maturity (the cask was probably quite silent) but the spirit's profile is really to my liking. Clean peat, smoke, seashells, wet wool, wet earth, lemons, fresh walnuts and just a tiny little plate of porridge. A rather beautiful naked young Bowmore. Mouth: exactly the same as on the nose. Hard to imagine a whisky that's more coherent, isn't it! Finish: medium to long, always on the same flavours, with that distinctive saltiness in the aftertaste. Comment: Bowmore as it should be in my book, and as it certainly is since a few years (how pretentious is that?) We can't wait to be able to taste these vintages at 20+ years old. SGP:347 – 87 points.