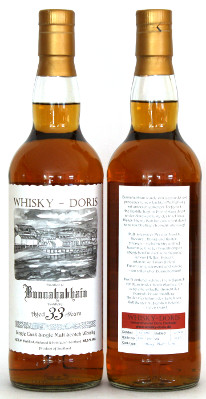 Bunnahabhain 33 Jahre 1980 Whisky-Doris
Bunnahabhain wurde 1881 gegründet und produziert einen leichten Malt Whisky mit unterschiedlichem Torfgehalt. Die Destille liegt in Port Askaig direkt an der Nordostküste der Insel Islay. Dieses Sherry Butt hat uns sofort durch seine reichhaltige Aromatik überzeugt!
An der Nase zeigt dieser Bunnahabhain einen intensiven Mix aus Frucht-, Gewürz-, Honig- und Küsten-Aromen - vielschichtig und tief. Im Mund zunächst ein süßer Fruchtkompott übergehend in exotische Gewürze (etwas Pfeffer, Ingwer), intensiv und mundfüllend. Das Finish ist lang anhaltend, wärmend und würzig – ein toller, alter Bunnahabhain!
Tipp: diesem alten Bunnahabhain sollten Sie besonders viel Zeit zum Atmen geben, damit sich alle Aromen zeigen können - es lohnt sich! Diese tolle Abfüllung ist inzwischen ausverkauft und nur noch als Mini verfügbar. Das Frontlabel schmückt ein Aquarell von Kunstmaler Horst Manthée (Hotte). Es zeigt eine aktuelle Ansicht der Bunnahabhain Distillery, die es auch als handsignierten Druck in DIN A4 für 15 Euro gibt!
Beurteilung von Serge Valentin (
www.whiskyfun.com
):


Bunnahabhain 33 yo 1980/2013 (45.6%, Whisky-Doris, sherry butt, cask #92)

Colour: full gold. Nose: the oak's more apparent in this one, but that's normal. Polished wood, chocolate, praline, walnut cake, honey cake… It's rather 'beehivy' in fact, which is most pleasant. You've got the wood, the wax, the honey and the pollen. No, no royal jelly. Also a wee smoke, charcoal, then hints of menthol and milk chocolate. Maybe dried seaweed? So far, so good. Mouth: the oak is more obvious this time, and probably a little drying (strong green tea), but the honey and the nice notes of tarte tatin keep the whole balanced and lively. Mulled wine, orange cake, cinnamon flavoured chewing-gum (do they still make that?) and gingerbread. Finish: long, rather more on praline and gingerbread/speculoos. The honey's still there in the aftertaste. Comments: the oak starts to show a bit but it does act more like some spice and just underlines the very lovely honey notes. Excellent, I think.

SGP:651 -

88 points

.



Beurteilung von Ruben Luyten (

www.whiskynotes.be):

Nose: a delicate nose, on dried flowers, soft honey and allspice. A subtle fruitiness of orange peel and lemon cake. Candied ginger. Overall rather dry and waxy. Some old-style oak and walnut husks. The lightest hint of sea breeze as well. All rather discreet, but pretty complex, it grows on you. Mouth: dry with lots of herbal notes, liquorice and a load of oak juice and nuts (without becoming astringent though). Yellow apples and orange peel again, mixed with soft pepper and a pinch of salt. A bit of bitter grassiness towards the end. Maybe Fino sherry? Finish: medium long, dry, with apple peel, liquorice root and nutmeg. A herbal, oak-infused Bunnahabhain that steps out of the box at times but manages to keep you interested. It could be mistaken for an old-style, discreet Speysider. Score:

87/100

.