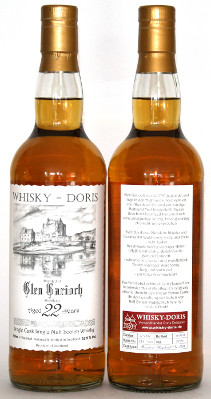 Glen Garioch 22 Jahre 1991 Whisky-Doris
Glen Garioch wurde 1797 gegründet und liegt in den Highlands, nordwestlich von Aberdeen. Es wird ein würziger Highland Malt hergestellt.
Dieses Bourbon Hogshead hat uns durch seine einzigartige kernig-krautig-würzige Aromatik angesprochen.

An der Nase zeigt dieser Glen Garioch Aprikose, Mandeln, Kräuter und Gewürze mit Waldhonig, Erde und Eiche - vielschichtig und sehr lecker. Im Mund erfolgt ein kräftig würziger Antritt (Pfeffer) mit Eiche, Apfel-Vanille-Birne-Kompott - sehr intensiv, lecker und mundfüllend. Das Finish zeigt würzigen Waldhonig und ist sehr lang und wärmend - ein toller Glen Garioch!

Tipp: diesem Glen Garioch sollten Sie viel Zeit zum Atmen geben, damit sich alle Aromen zeigen können - es lohnt sich! Das Frontlabel schmückt ein Aquarell von Kunstmaler Horst Manthée (Hotte). Es zeigt eine aktuelle Ansicht des Eilean Donan Castle.

Beurteilung von Ruben Luyten (

www.whiskynotes.be):

Nose: a rather rounder version than other 1991 casks I could try. Buttercups, honey and vanilla. Some coconut cream. Nice oranges and pineapple. Marzipan. Soft herbs in the background. A faint hint of metal polish as well, which works nicely on the fruity backbone. Maybe a hint of eucalyptus. Mouth: much spicier now (pepper, nutmeg), with more (green) oak. Less exotic fruits – just apple now. Becomes more earthy and zesty, with bittersweet elements. Finish: medium long, still bittersweet with some briny echoes. The Glen Gariochs from these years can be quite austere, but this one strikes a good balance and adds a nice fruitiness. Score: 87/100



Beurteilung von Serge Valentin (

www.whiskyfun.com):

Colour: gold. Nose: it's a rather mineral and waxy one at first nosing, then we find more wild flowers as well as a little burnt wood. At the fruit department, the expected apples and one small orange. A little sawdust. With water: more barley sugar, honey, sweet oak, vanilla… Mouth (neat): creamy and fruity, with a few bubblegums and marshmallows, then more apples and oranges, then a little green tea. A little lemon as well, some leaves… It's right between the fruity ones and the grassy ones, so I'd say it's balanced. With water: the fruits win. Finish: quite long, with a wee phenolic side. Maybe some camphor. Comments: impeccable modern-era Glen Garioch (i.e. virtually unpeated). SGP:551 -

88 points

.