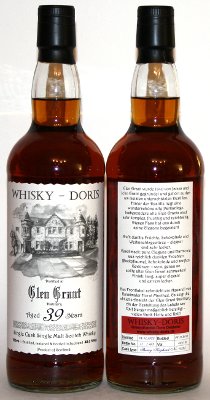 Glen Grant 39 Jahre Whisky-Doris
Glen Grant wurde 1840 von James und John Grant gegründet und gehört zu den am meisten unterschätzten Destillen. Insbesondere alte Glen Grants sind sehr komplex, fruchtig und reichhaltig. Dieses Fass wurde am 08.11.1972 destilliert, an seinem 39. Geburtstag abgefüllt und hat uns durch seine Eleganz und Tiefe sofort begeistert….

Dieser typische, alte Glen Grant zeigt an der Nase sofort Aromen von dunklen Früchten, Schokolade und Weihnachtsgewürze – das alles ist super elegant und sehr lecker. Im Mund erfolgt ein kräftiger Antritt mit purer Eleganz und Harmonie aus reichlich dunklen Früchten (Backpflaume), Schokolade und sanften Gewürzen – wow, genau so sollte alter Glen Grant schmecken! Das Finish ist lang, super elegant, extrem lecker, wärmend und zum Ende hin mit einem Hauch Frische und Minze - TOP, ein Glen Grant-Klassiker!
Achtung: dieser tolle, alte Glen Grant benötigt einige Zeit zum Atmen, damit sich alle Aromen entfalten können - Warten lohnt sich! Diese Abfüllung ist leider ausverkauft! Das Frontlabel schmückt ein Aquarell von Kunstmaler Horst Manthée (Hotte), es zeigt eine aktuelle Ansicht der Glen Grant Distillery.
Bewertung von Malt Maniac Robert Karlsson (www.whisky-monitor.com)
93p Amazing sweet almost exotic yet dark intense fruityness. Perfect spiciness, cinnamon, leather, eucalyptus. Clearly sherried but oddly fresh and exotic styled. Awesome nose. Tastewise in full balance, with a beautiful fruit compote. Baked sugared oranges. Sweet, spicy, intense, complex. Doesn't need water. Superb whisky.
Beurteilung von Ruben Luyten (www.whiskynotes.be):
Glen Grant 39 yo 1972 (48%, Whisky-Doris 2011, sherry hogshead #11395, 163 btl.)
Nose: This one has less alcohol and indeed it starts more like the Spirits in the Sky version with water. It seems more open – it doesn't have as much cherry notes but its fruitiness is wider, like a red fruit compote with tropical touches in the background. Leather again. Maybe a little more spices and cocoa. Mouth: smoother but just as fruity and intense. Plums, blackberries, figs, all present. Extra raspberry (nice). Develops on cocoa, almost completely on chocolate in the end. Pretty much perfect strength and nicely supported by the spices without being oaky. Finish: long, sweet. Spices and chocolate. I don't have a favourite, both are equally great in my opinion. The lower strength certainly isn't a downside and it's 10% cheaper as well. Recommended. Score: 92/100
Beurteilung von Serge Valentin (www.whiskfun.com):
Glen Grant 39 yo 1972/2011 (48%, Whisky-Doris, sherry hogshead, cask #11395, 163 bottles)


Colour: amber. Nose: yeah! I mean, it's the beautiful jammy profile that so many people adore, quite in the style of the famed Caperdonichs from the same year. Bags of figs and dates, kumquats, apricot jam, honeydew, beeswax and ripe plums. Behind all that, wonderful touches of cigarette tobacco, prunes, tamarind and cappuccino. Brilliant nose, totally flawless. Mouth: the oak kicks in but it's never drying nor tannic, it rather brings a subtle spiciness (cardamom). Other than that, more bags of prunes, figs and jams plus kumquats and oranges. Pure pleasure. Finish: long, with a very, very strong taste of yellow chartreuse that's quite terrific. Wormwood, aniseed and all the rest. Comments: textbook old Glen Grant without a single flaw and that magical fruitiness that makes them so appealing. Well done Whisky-Doris! SGP:651 - 92 points.