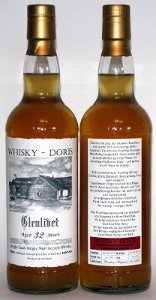 Glenlivet 32 Jahre Whisky-Doris
Glenlivet ist eine der ältesten Destillen und wurde 1823 von George Smith lizensiert. Es wird ein fruchtig-blumiger Maltwhisky hergestellt. Ganz selten gibt es auch stärker getorfte Fässer im knackigen Highland Style - und genau so ein Fass ist dieses. Es wurde am 29.06.1977 destilliert und hat uns sofort begeistert….
Dieser alte Glenlivet ist an der Nase zunächst sehr fruchtig (Zitrusfrüchte, grüne Banane), wird dann grasig und leicht torfig/würzig - sehr elegant, komplex und lecker! Im Mund erfolgt dann ein öliger und fett-fruchtiger Antritt, danach deutlicher Rauch und Torf, der perfekt eingebunden ist, sehr würzig und vielschichtig - ein außergewöhnlicher und sehr leckerer Glenlivet! Das Finish ist sehr lang und wärmend auf der würzig-torfigen Seite - eine ganz neue Glenlivet-Erfahrung! Hinweis: die Abfüllung bleibt auch bei Zimmertemperatur komplett trüb!
Diese Abfüllung ist leider ausverkauft! Das Frontlabel schmückt ein Aquarell von Kunstmaler Horst Manthée (Hotte). Es zeigt eine ältere Ansicht der Glenlivet Distillery, die es als handsignierten Druck in DIN A4 für 15 Euro gibt!
Beurteilung von Serge Valentin (www.whiskyfun.com):

Glenlivet 32 yo 1977/2010 (44.8%, Whisky-Doris, bourbon hogshead, cask #13129)

Colour: straw. Nose: starts rather fruity, really ala Glenlivet, mostly on garden fruits with a little honey and a faint waxiness (beeswax). Apple and very ripe pears, a little orange, peaches. Gets then slightly mineral and faintly smoky, in a rather delicate way, not very far from some old OBs in style. Very nice return on lemon and green apples after a while, with just a little oak and vanilla. Very nice balance. Mouth: punchy and very fruity, with quite some pepper and ginger plus a faint smokiness again. Apple liqueur, tangerines, limejuice, oranges… It's really fruity while the oak is pleasantly bitter which balances the whole very nicely (a little mustard). Finish: pretty long, more on orange cake. Cooked sour apples and pepper in the aftertaste. Comments: a very good Glenlivet, maybe without any big personality but everything is nicely in its place. I guess that's what you call balance. SGP:542 - 87 points.
Beurteilung von Ruben Luyten (www.whiskynotes.be):
Glenlivet 32 yo 1977 (44,8%, Whisky-Doris 2010, bourbon hogshead #13129, 96 btl.) Nose: ah, a lovely fruit basket, just what we were hoping for! It starts on Mediterranean fruits: peaches, juicy pears, gooseberries, oranges… then growing more tropical with green banana and a little passion fruit. Nice sweet / sour combo. Also some waxy and grassy notes in the background. Quite excellent. Mouth: very fruity (apple, citrus) and oily with a faint bitter edge (lime zest, woody notes). Also an unexpected hint of peat. Even… mustard. Nice evolution, fruity and fresh but not sweet at all. Finish: now turning to spices (pepper, clove) and zesty citrus. A multi-dimensional Glenlivet, showing both expected elements (fruit basket) and a few nice surprises (peat and enjoyable mustard notes). Score:
89/100