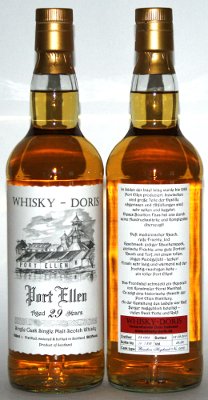 Port Elen 29 Jahre 1982 Whisky-Doris
Im Süden der Insel Islay wurde bis 1983 Port Ellen produziert. Inzwischen sind große Teile der Destille abgerissen und Abfüllungen sind sehr selten und begehrt. Dieses Bourbon Fass hat uns durch seine Ausdrucksstärke und Komplexität überzeugt!
An der Nase zeigt dieser alte Port Ellen medizinischen Rauch, reife Früchte und Jod - komplex, vielschichtig, sehr lecker und voll! Im Mund erfolgt ein kräftiger Antritt mit jodigem Räucherspeck, exotischen Früchten, eine gute Portion Rauch und Torf mit einem tollen, öligen Mundgefühl - super lecker! Das Finish ist sehr lang und wärmend auf der fruchtig-rauchigen Seite – ein toller Port Ellen!
Tipp: diesem Port Ellen sollten Sie viel Zeit zum Atmen geben, damit sich alle Aromen zeigen können! Diese Abfüllung ist nicht mehr verfügbar. Das Frontlabel schmückt ein Aquarell von Kunstmaler Horst Manthée (Hotte), es zeigt eine ältere Ansicht der Port Ellen Distillery.
Beurteilung von Ruben Luyten (www.whiskynotes.be):
Nose: quite a mineral Port Ellen, with big notes of limestone, wet rocks, wool, coal oven… but a nice underlying fruitiness (yellow apples, sweet lemon) makes sure it doesn't get too austere. Overtones of menthol and medicinal aromas. Quite layered and very balanced, I really like this. Mouth: punchy delivery on oily peat, lemon and liquorice. Less rounded now, fairly dry, still showing quite some iodine and medicinal touches. A little pepper and ginger before it settles on grassy and mineral notes. Finish: very long, half grassy / half fruity, with a salty twist. An great Port Ellen, with an excellent nose and a textbook palate (albeit the slightly austere type of Port Ellen). Score: 90/100
Beurteilung von Serge Valentin (www.whiskyfun.com):
Port Ellen 29 yo 1982/2011 (58.5%, Whisky-Doris, bourbon hogshead, cask #18, 212 bottles)

Colour: pale gold. Nose: starts very citric, very lemony and very briny/coastal. Lemon-spread kippers and oysters. Stays on those simple yet pretty entrancing notes for a looong time, with no tarry burst, no new tyres and no brand new rubber boots… Maybe a little café latte. With water: even more brine and, yes, a little fresh tar. Mouth (neat): excellently nervous and citrusy, with a lot of salt right from the start and a very 'kippery' and almondy peatiness. Once again, the beauty comes from its simplicity (says the guy who keeps advertising complexity in whisky). With water: a delicious salty and citrusy profile, bordering on tequila + lemon + salt (the best of each). Finish: long and even saltier. You could almost use it instead of salt on your favourite dishes – a very valid excuse, don't you think? Comments: one of the tireless chiselled PEs, with little oak influence. This could well spend 50 years in 'wood' and not lose steam… SGP:358 - 91 points.