Tobermory 34 Jahre Whisky-Doris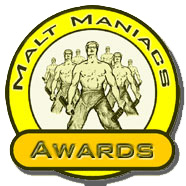 Die Tobermory–Destillerie liegt malerisch auf der Insel Mull direkt am Meer, am Rande des gleichnamigen Hafenstädtchens. Es wurden und werden Malts unter den Namen Tobermory und Ledaig hergestellt, wobei der Ledaig die stärker getorfte Variante ist. In den Jahren 1972 bis 1975 wurden einige herausragende Malts produziert, die sehr selten und begehrt sind. Deshalb sind wir besonders stolz, Ihnen diesen im Dezember 1972 destillierten Tobermory aus einem first fill dark Sherry Cask präsentieren zu dürfen!
Dieser toll gereifte Whisky wurde im Februar 2007 abgefüllt ist einfach herausragend: im Duft zeigen sich Sherry, dunkle Früchte, Jod und Rauch. Im Mund entwickelt sich ein tolles Zusammenspiel aus trockenem, intensiven Sherry mit einer guten Portion Torf, Jod, Gewürze, exotische Früchte und leichtem Rauch - sehr lecker! Im Abgang entwickelt sich ein sehr langer Nachhall aller Aromen - spätestens jetzt werden Sie diesen Tobermory mit hochkarätigen Islay - Abfüllungen vergleichen!
Achtung: dieser elegante Single Malt benötigt einige Tage zur vollen Geschmacksentfaltung - bitte geben Sie ihm diese Zeit! Aus der frisch geöffneten Flasche eingeschenkt wirk er sehr zurückhaltend, fast verschlossen. Bereits nach wenigen Tagen wird Sie dieser Tobermory restlos begeistern!
Malt Maniacs Awards 2007: Gold Medal Winner!
Beurteilung von Serge Valentin (www.whiskyfun.com):
Tobermory 34yo 1972/2007 (49.5%, Whisky-Doris, first fill sherry cask, 96 bottles)

Colour: dark amber. Nose: lots of sherry, dried bananas and cooked strawberries at first sniffs. Quite wham-bam I must say, with a multilayered development.
First we have all these red fruits (mostly cooked, or jams), then the whole gets extremely nutty (loads of old walnuts, walnut wine - what we call Nusswasser here in Alsace), then quite meaty (game) and finally rather spicy (soft spices, curry, cardamom) with also hints of balsamic vinegar and amaretto. Extremely influenced by dry oloroso but very complex, yet massive. I like this a little better than the fairly recent 1972 OB because it's less of a classic sherry monster. Mouth: thick, rich, extremely coffeeish but not cloying at all, unlike some other sherry monsters. Lots of bitter chocolate and blackcurrant jelly, crystallized tangerines, peppered chocolate… And then comes quite some peat (Ledaig?), mustard, even hints of wasabi… Lots happening in your mouth! Wham-bam indeed. Quite some wood after that, with some tannins, lactones, herb liqueur… The finish is very, very long, sherried, peppery and spicy – I guess one could use this one as a sauce – why not with sushi? Anyway, an excellent old olorosoed Tobermory, very concentrated – or maybe is it Ledaig? 91 points.